Greetings from the Via Francigena
It's amazing how many ups and downs I'm experiencing, both literally and figuratively. The scenery is amazing – rolling hills, vineyards, olive orchards, the odd castle or bell tower – but the reality of walking between Tuscan hill towns is that they are on the tops of hills. So there is a brutal climb to do at the end of almost every day. On some days I've found myself practically leaping out of bed when I get up in the morning and I feel full of energy and high spirits all day. On other days, mostly the longer ones, I've found myself running out of energy around 3 pm and wondering, as I stagger up the last mile of straight uphill climb, feeling my knees and feet protesting with every step, why on earth I am doing this to myself.
Last Tuesday the 21st I had a wonderful day walking from Camaiore into Lucca – I met up with some other Pilgrims (an Italian couple and a Dutch man) and we ended up walking together for most of the day and sharing our lunches. The Italian couple had 2 avocados in their packs and shared them four ways – they even had some lemon to squeeze on them and salt for sprinkling! And extra spoons for us all. The Dutch man had some cheese he shared. And I had a bag of cookies to hand around at the end. We exchanged relatively few personal details but somehow managed to find things to chat about all day long – stories from the road, LOTS of blister terror tales, and some great tips for packing and managing energy levels throughout the day. I've exchanged contact information with a few people I've met, but mostly I've found you say hello, enjoy someone's company, sometimes exchange first names, then wish them well when you send up separating, either because you are walking at different speeds or you are staying in different places in the evenings. And everyone seems to want to start at different times in the morning.
One of the most amazing things about it is that its walls are completely preserved, and so wide that you can ride completely around the city on top of the walls on a bicycle (something I did 25 years ago when I lived in Milan). A friend of mine from college lives in Florence and he drove down to have dinner with me – we had an amazing meal at a restaurant run by a friend of his wife's – and stayed up far later than I am used to chatting and catching up.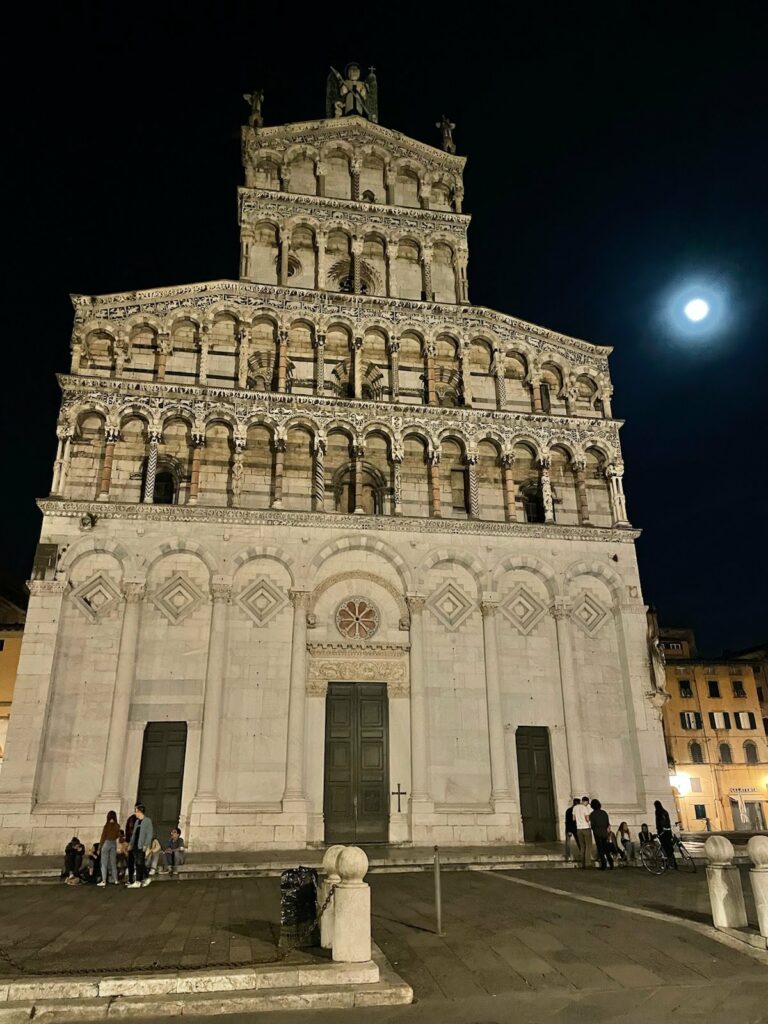 The next day, though, was brutal. Per my plan, I took the train from Lucca to Altopascio (where I was going to start the days' walk) but things started to go wrong almost immediately. First, the train was delayed for about 30 minutes, so I didn't get to Altopascio until almost 10 – a very late start for a long day of walking. Then, as I got off the train, one of my trekking poles fell out of my pack. Except it was the ONLY trekking pole I had, somehow, even though there had been two when I got on the train. I turned back to see if I could find it, only to find the whistleblowing, the train doors closing, and the train pulling away from the station.
"Oh, well," I said to myself. "I guess I should just start walking." Walking into Lucca, I'd developed a new 'hot spot' on the top of my right foot, and the next day I had decided to give my feet a break by wearing my regular jogging shoes instead of my hiking boots. It was so nice to walk in a light pair of shoes for once, with lots of spring in the sole and mesh instead of leather on my foot. The rest of the morning was lovely, with some beautiful scenery and interesting things to see. But things got steadily worse starting around 1 pm.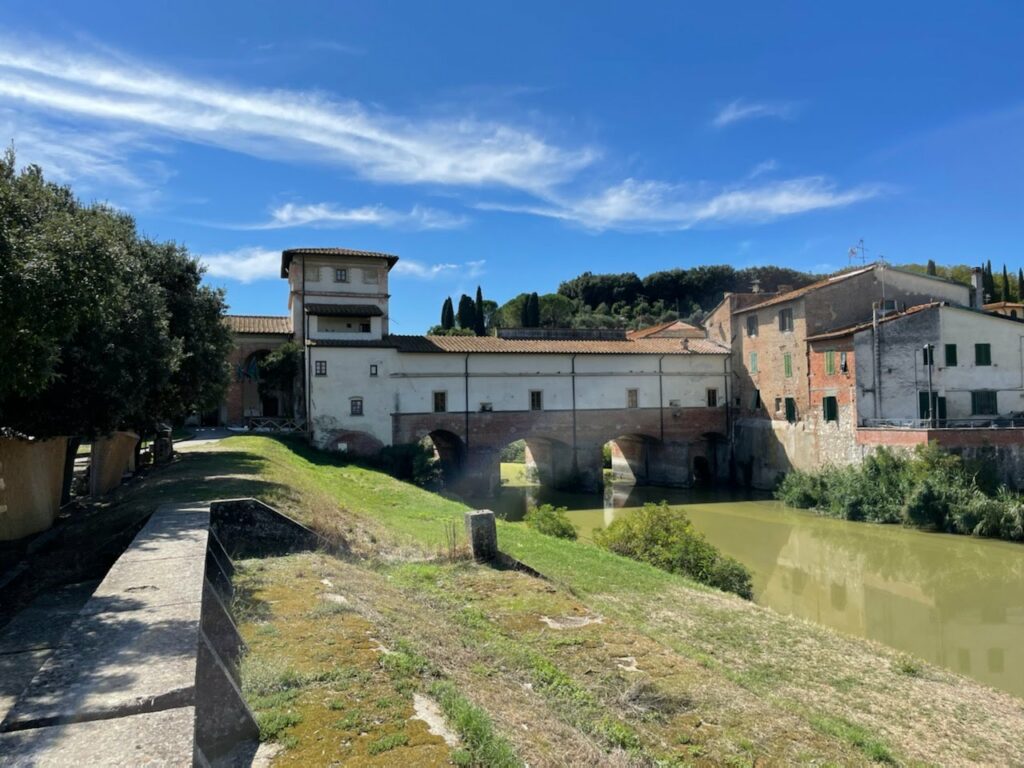 As I walked (and walked and walked) through farmland and alongside a canal, I started feeling a new blister on a toe. And the resurgence of an old blister. I ended up stopping every 20 or 30 minutes to fiddle with my socks, and the Compeed, and the Moleskin. To make matters worse, I accidentally bought a sandwich for lunch early in the morning that had mayonnaise in it. When I pulled it out of my backpack at around 1:30, it was warm to the touch – and oozing mayonnaise. So I tossed it out. Better to go hungry than give myself food poisoning! At about 3 pm I went through a town called Fucecchio and was able to buy another sandwich. I also finally pulled my boots out of my pack and changed out of my running shoes – best decision I'd made all day. The last mile of the 20 I walked that day was straight uphill – I finally staggered into my hotel in San Miniato around 6 pm, exhausted and really worried about my new blisters.
But the next day was another day of Via Francigena miracles. I decided to take a rest day (I really should have planned to take at least every 7 or 10 days off!). I knew I was risking a resurgence of the problem blisters if I'd walked the next day. And as it turns out, it is impossible to take a bus or train from San Miniato to my next stop, Gambassi Terme. But I was able to hitch a ride with the baggage transportation service that takes my suitcase from hotel to hostel.
We got to my new spot, Ostello Sigerico at 10 am, and I was lucky that my room was ready. I had a chance to relax with my feet up for a few hours, then take a short walk into Gambassi Terme to get a salad for lunch (no mayonnaise!). Even better, perhaps, was the fact that the hostel had a lost and found with three trekking poles and many umbrellas. I was able to take the unmatched walking stick the next morning – ready for my next day of walking to yet another Tuscan Hill Town.
Ostello Sigerico is built right next to a 12th century church – the building with the hostel shares a wall with the church. My room is one of the three windows you can see to the right on the second floor.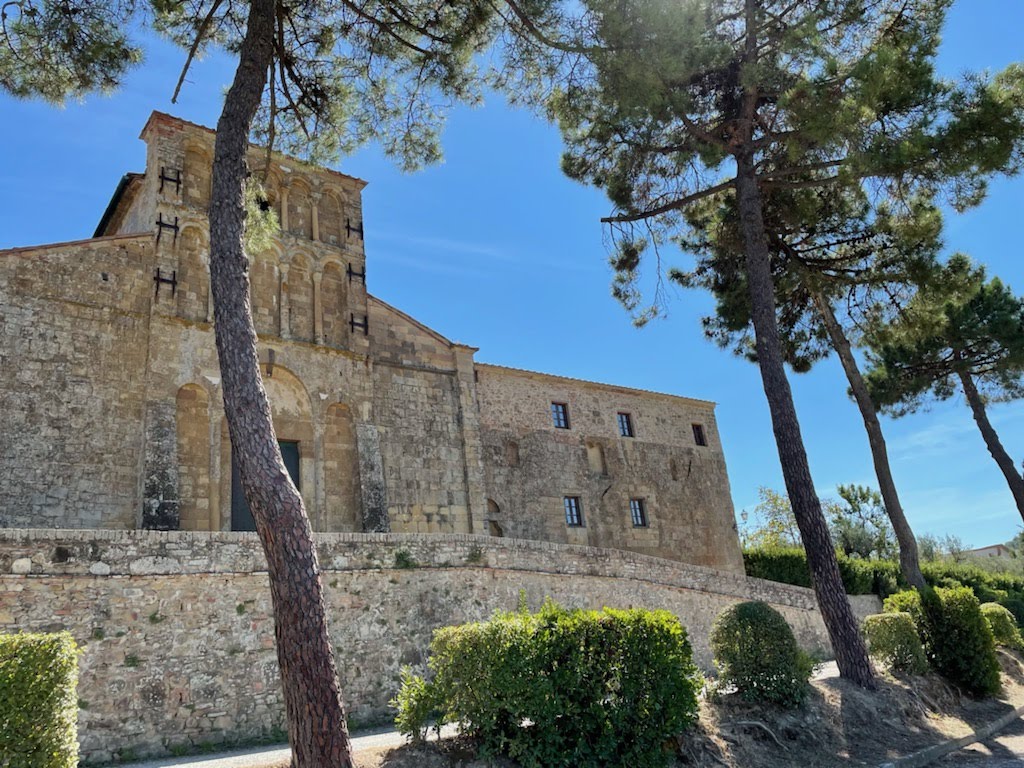 It was very simple but very comfortable. There is no air conditioning but with 2 foot thick stone walls it was 75 in my room, even though my phone said it was 82 outside.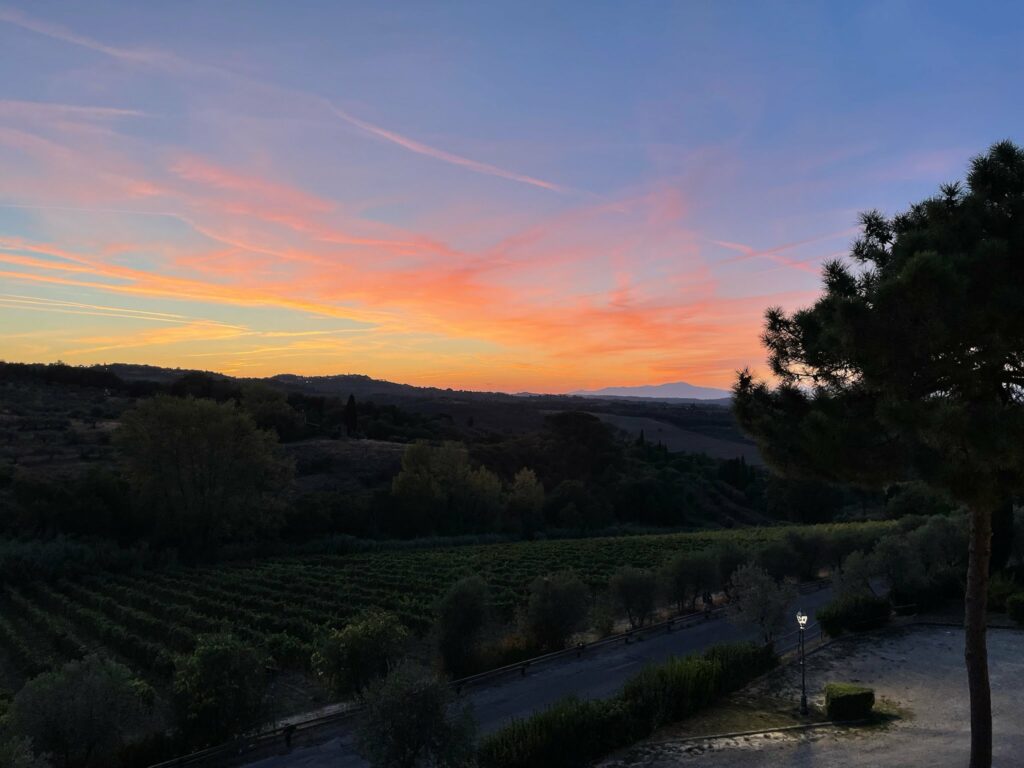 Dinner that night was great fun – so many people to chat with and exchange stories with. And I woke up the next morning ready for the walk into San Gimignano, which many people think is one of the most beautiful towns in Italy. It is an almost perfectly preserved medieval walled city and the surrounding countryside is full of vineyards and olive groves, set amongst rolling hills. When you think of Tuscany, what most people are really thinking of are the vistas around San Gimignano.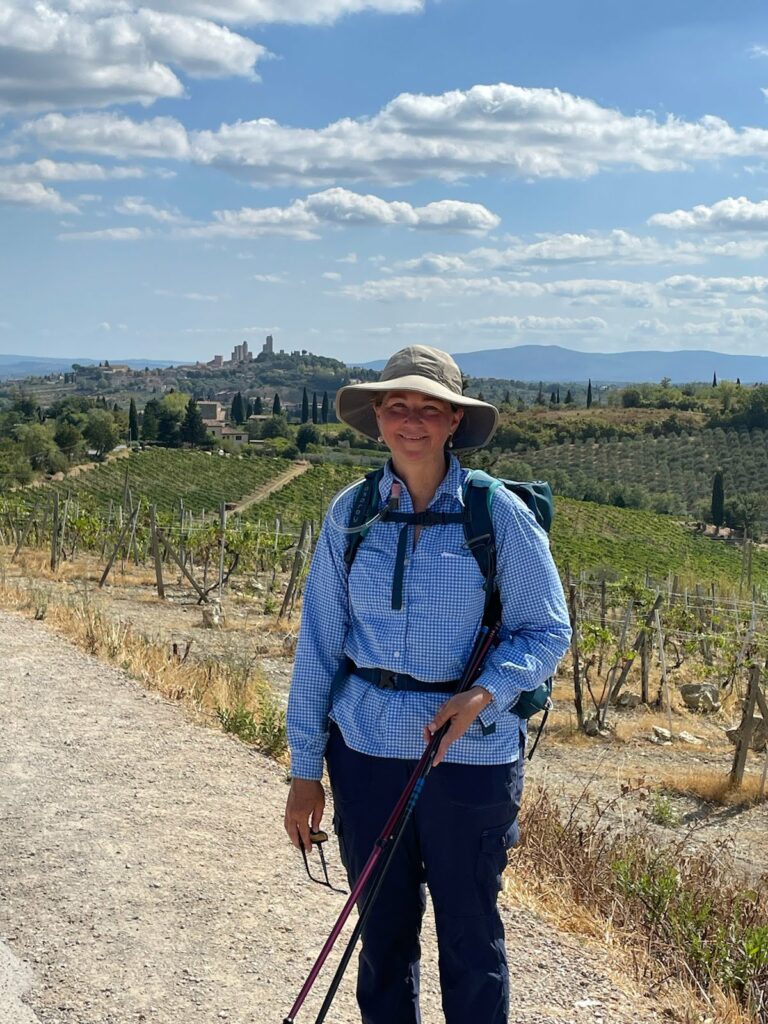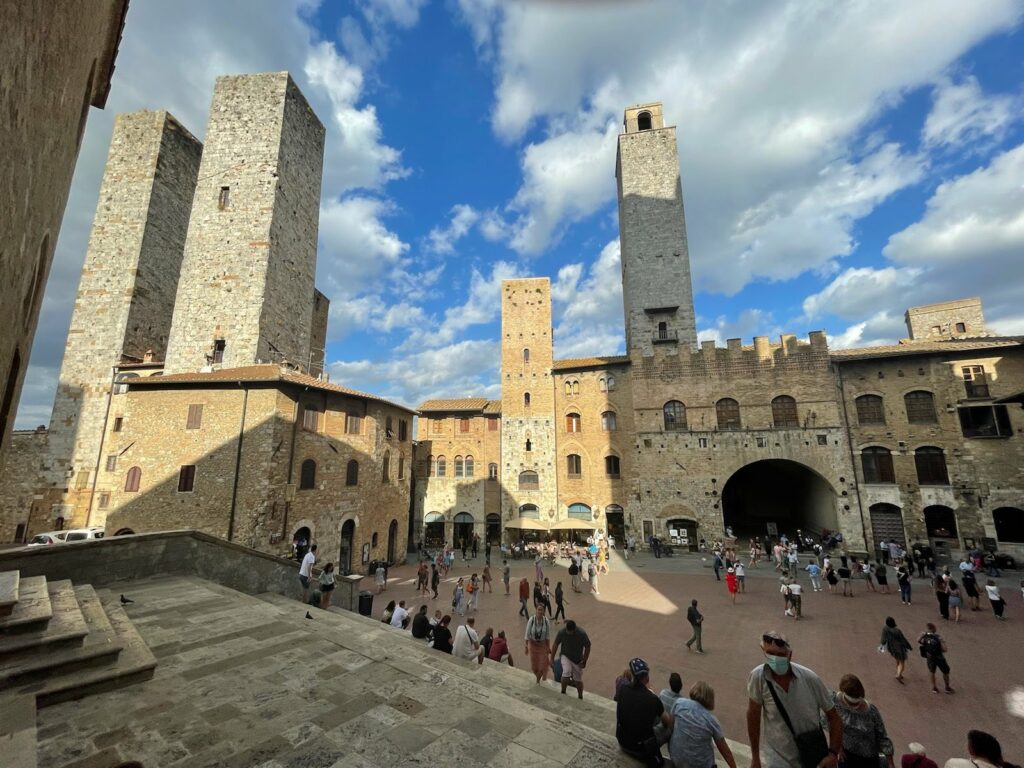 I spent most of the day walking with an Italian couple. It was a very short walk that day, only 10 miles, and we actually got to San Gimigniato in time to eat our lunch there, in a shaded piazza overlooking the Duomo. We were even able to buy some cold beers to go with the sandwiches we'd bought that morning – talk about luxury! We all split up for the afternoon, and I was able to do some sightseeing as well as enjoy hanging out on the balcony outside my tiny room.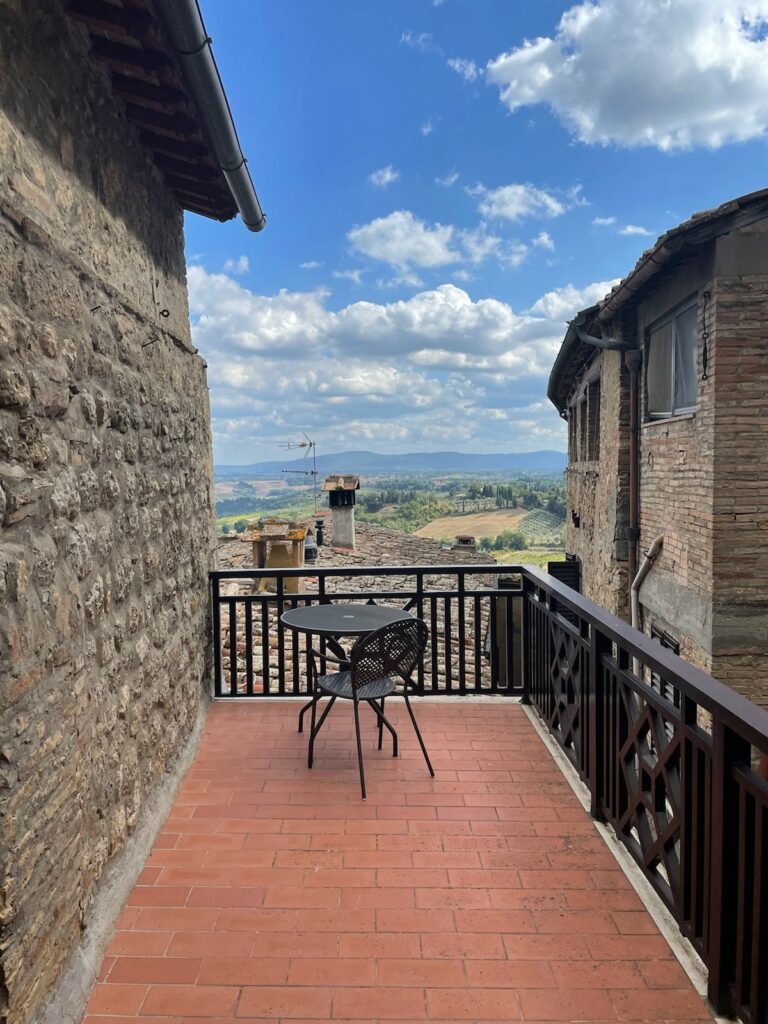 That night, I bumped back into the couple I'd walked with, plus one other pilgrim from the night before. We ended up sharing a bottle of wine in the main town square, then finding a hole-in-the-wall trattoria for dinner. It might have been the company, but it was one of the best meals I've had on the trip. Bruschetta with various toppings, followed by a huge platter of all kinds of meats and salami and cheese, followed by big bowls of Tuscan Ribollita soup. And of course a bottle of wine from one of the vineyards we'd walked through that morning.
The next two days, to Colle Val di Elsa and Monteriggioni, were more solitary. I didn't really see anyone else walking, though there were a number of groups of bicycles sharing the path with me from time to time. Both towns are beautiful but lost a little something in comparison to San Gimignano. The walk out of Monteriggioni started off the same way, but after about an hour in I ran into two English couples, who were celebrating their 70th birthdays by walking the part of the Via Francigena from Lucca to Sienna, which many people say is the most beautiful. I'd actually seen them on at least three or four other occasions but we hadn't really stopped to chat before. We walked together for a bit, then I decided to speed up. I hadn't gone more than 100 feet before one of them yelled at me – apparently, I'd blown right by a turn-off for the train and was merrily heading down the wrong path.
We spent the rest of the day together – another one of those days where everything was beautiful and we found picnic tables at rest spots and just the right time for lunch. The end of the walk into Sienna was hard – a lot of up and down on asphalt, but full of beautiful and tantalizing glimpses of the city.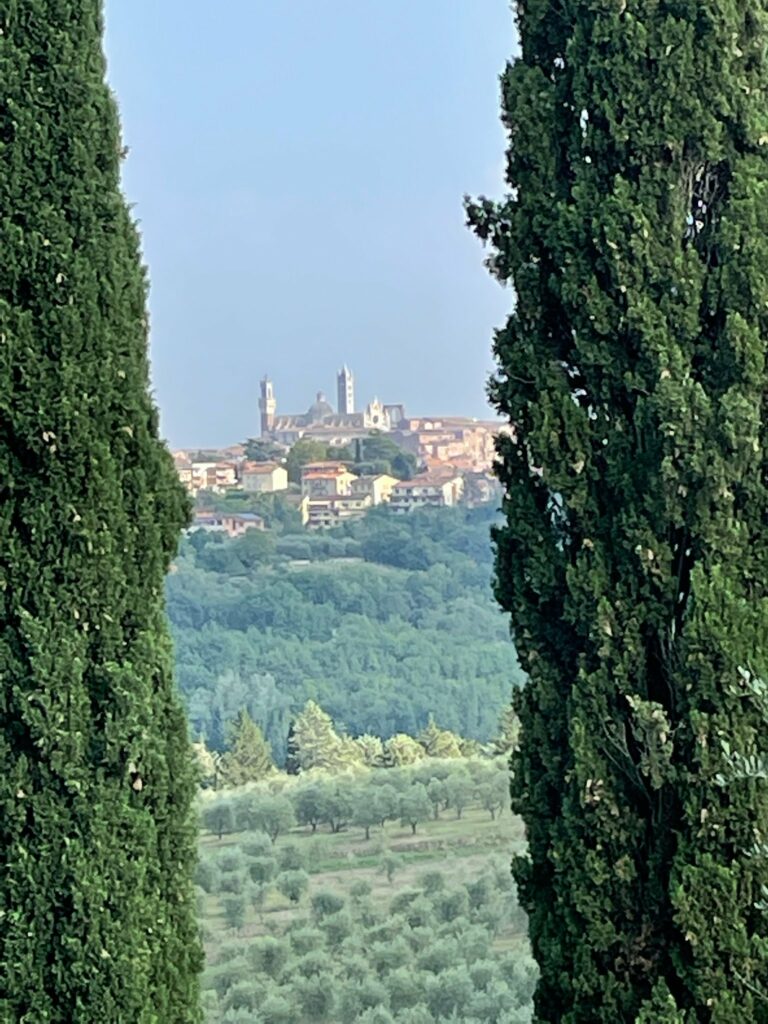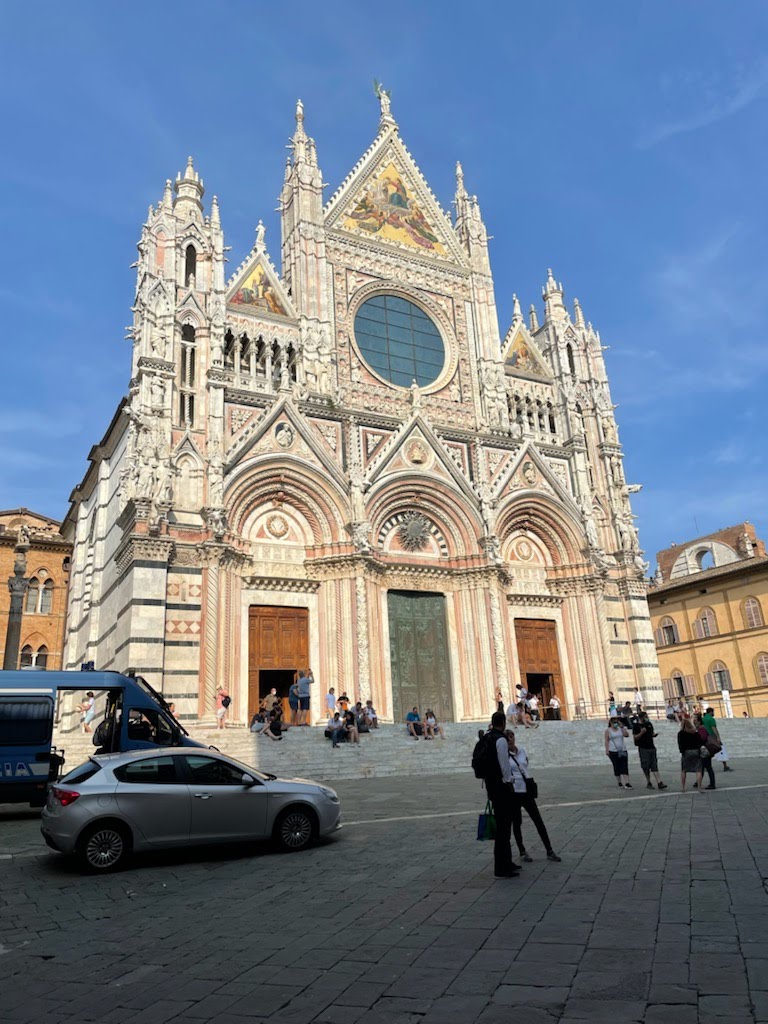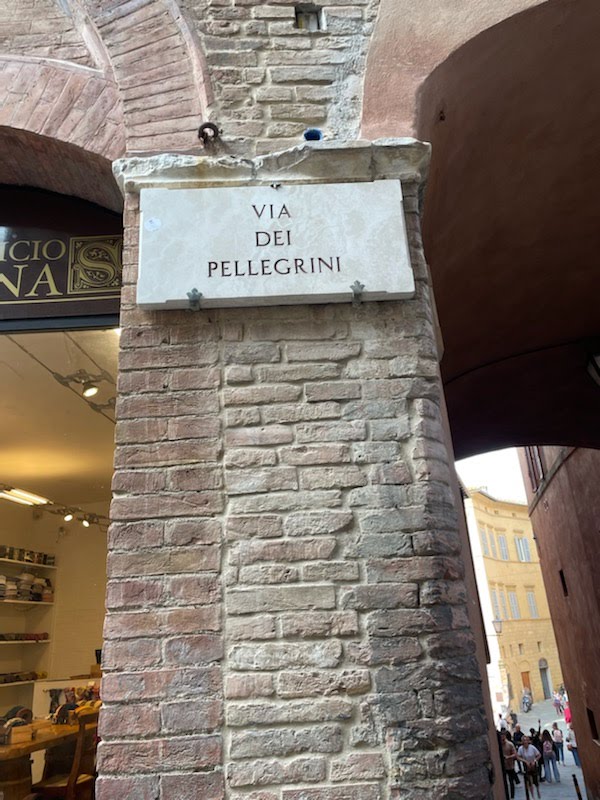 I find myself astonished that I am over 2/3 of the way through now – with only 13 more days of walking before I get to Rome. Suddenly it all seems to be going too quickly. I want to slow it all down and to see if I can stretch out every moment. At least, that's how I feel right now, after an easy day's walk to Buonconvento, two days after I got to Sienna. Tomorrow I have a 30 km walk – I decided to combine two short days into one when I was planning the trip, which seemed like a good idea at the time. We'll see how it goes in reality. I've already made sure I downloaded the bus schedule as well as a map of where the stops are in case I get tired or my blisters start to act up. Wish me luck!