The first 3.5 weeks of my Via Francigena walk can be divided into 4 parts:
Part I: The alps/Aosta valley 8/25 – 8/31 — 112.5 KM
Part II: The flats/the rice and soy fields 9/1 – 9/8 160 KM
Part III: The infected blisters (4 days of flats + 4 days of Apennine Mountains, where I traveled with my suitcase instead of walked) 9/9 – 9/16 (I DIDN'T walk 165 KM)
Part IV: The rest of the Apennines into Tuscany and the Ligurian Sea 9/17 – 9/20 86 KM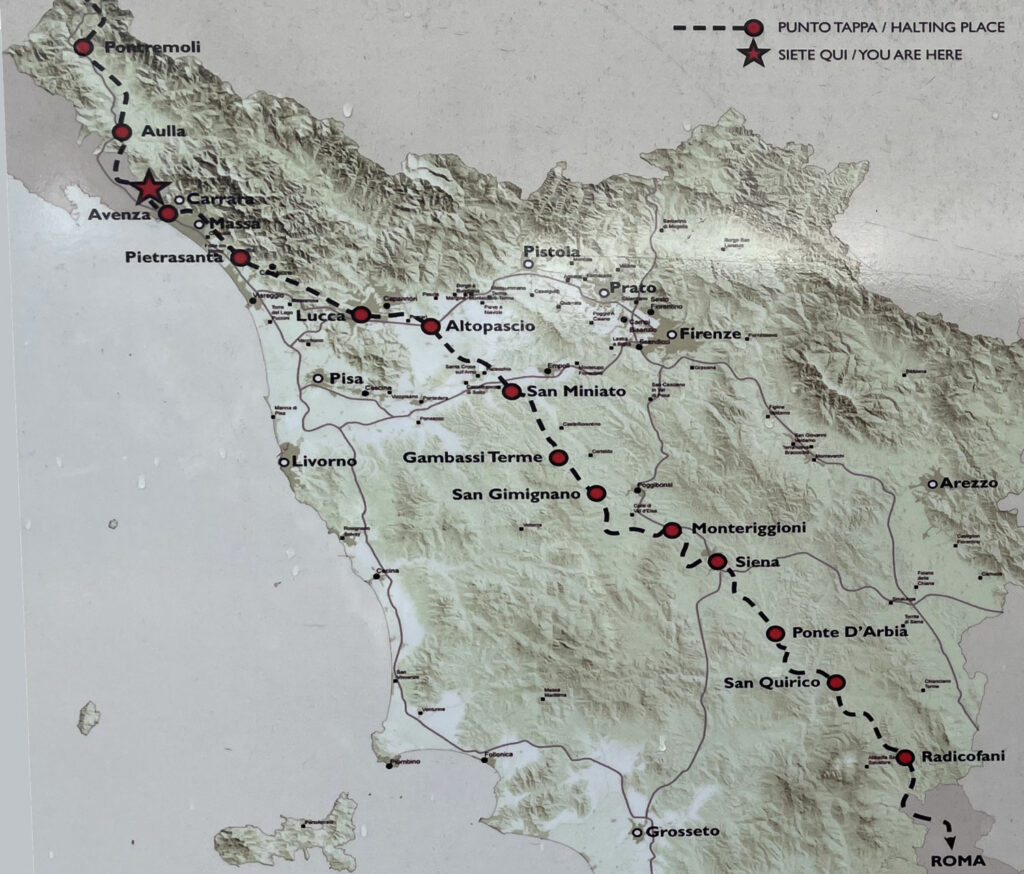 The first two parts were with my very dear friend Tacy Paul Roby – we've known each other since we were in the 3rd grade, and getting to share this with her, especially the beginning, was wonderful.
After a day in Milan, adjusting a bit to the time zone and seeing The Last Supper, we took a train to Aosta. And getting on "Via" time started right then, with me mis-reading our train tickets and getting to the station 15 minutes late, then compounding the error by mis-reading the train schedule again. By the time we got everything sorted out we were on a train 2 hours later than we should have been. The travel agency was great at getting our ride from Aosta to the St Bernard's Pass rescheduled but it meant that we got there too late to visit the Hospice St Bernard and the wonderful dogs. Moral of the story – just because you've lived in a country 25 years ago doesn't mean you remember how the trains work. And, basically, things will go wrong. Pivoting is essential.
Part I – The Alps
St Bernard to Etroubles
Etroubles to Aosta
Aosta To Nus
Nus to St Vincent
St Vincent to Verres
Verres to Pont St Martin
Pont St Martin – Ivrea
Ivrea – Viverone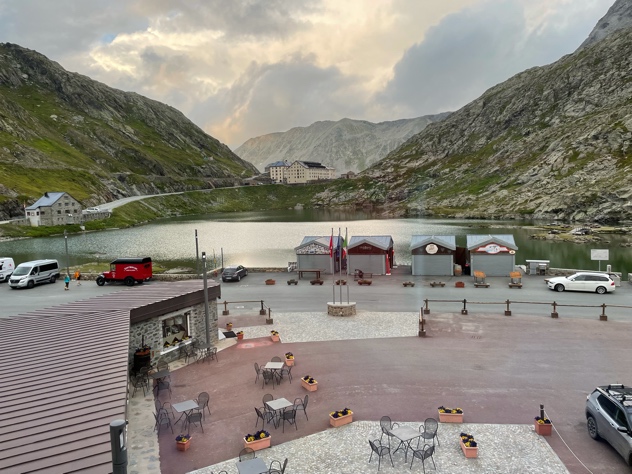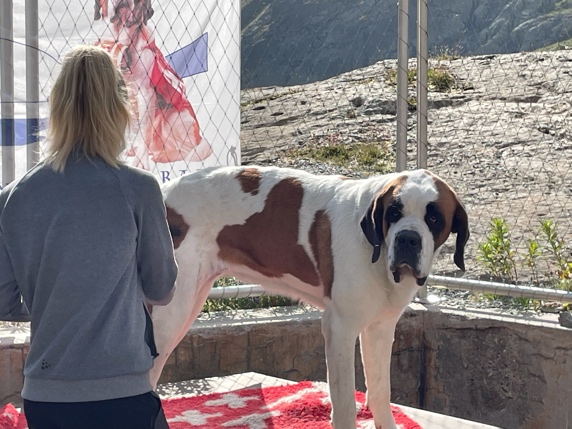 The next morning we had a great visit to the museum at the pass as well as the dogs, then we set off down the mountain.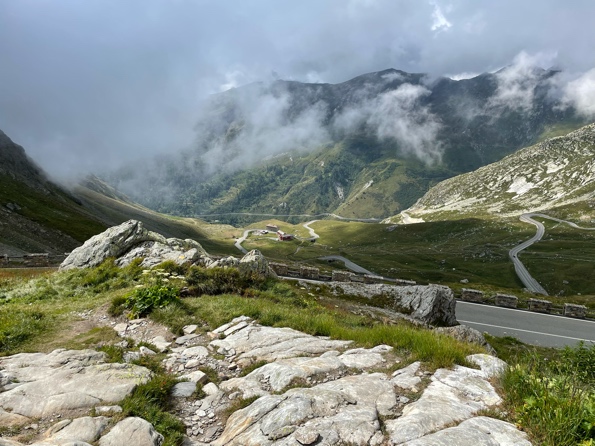 It felt like we were stepping off the edge of the world. It was a VERY hard day of walking – even though we only did ½ of the 'official' route the first day, for a total of 13.5 KM. We dropped over 3,000 feet, pretty much straight down, on a very slippery, slithery path made up mostly of rocks and schist. We spend much of the day above the tree line, and had to stop frequently to make sure we were taking care of the blisters which seemed to start appearing almost immediately, despite the fact that we were both wearing boots we'd worn hiking often. It seems that the descent from the Pass is notorious for starting blisters in places people have NEVER had them before, ourselves included.
That first day, too, was the first time we experienced what we call the miracles of the Via. Late that first afternoon, Tacy was sitting outside of a café trying to get a blister sorted out, and a woman walking by stopped and said (in French – Aosta is a bilingual region and Tacy speaks French but not Italian) – "Wait here! You MUST take care of this immediately." She went home and got a pack of Compeed (blister pads) and gave one to Tacy. The kindness of strangers is something to NEVER take for granted, but I have benefitted from it in numerous ways almost every single day of this trip. And it is something that has happened in some way, often several times, every day.
The next few days passed in a bit of a blur – lurching from heart-breakingly beautiful scenery to bandaging our feet, sharing a small cramped room (and tiny bathrooms), washing our clothes out every night in the bathroom sink and praying that they would dry by morning (which they mostly did). We saw (and heard) a lot of cows – they really DO hang bells around their necks in the alps.
I also wondered whether Italian cows were smarter than American cows, since they seem to stay in pastures roped off by very thin blue ribbons that are attached to poles that are stuck into the ground like ski poles.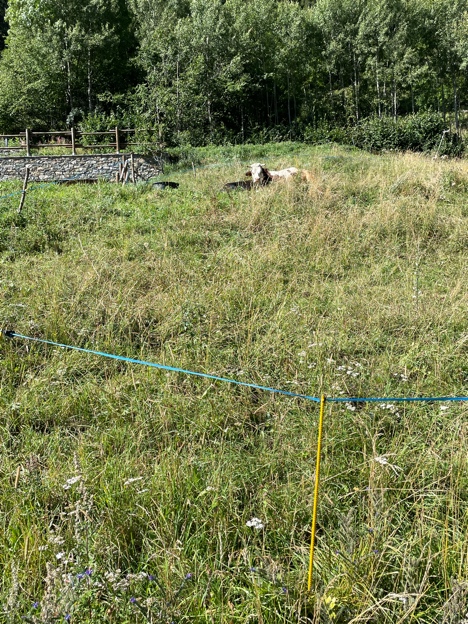 We actually picked up one of the poles and moved it so we could get across the trail, then put it back. Why don't the cows just push through? Are they trained? Or just intelligent? No electric fences or barbed wire here! Moral of the story (at least for me) – pay attention to hot spots on your feet – they will turn into very nasty blisters if ignored.
Part II – The Flats
Viverone – Santhia
Santhia – Vercelli
Vercelli – Mortara (I took the train for a much-needed rest day; first day alone)
Mortara – Garlasco
Garlasco – Pavia
Pavia – Belgioiso
Belgioiso – Piacenza
The first few days in the Alps we walked about 8-10 miles a day; as we descended lower and did rather less hiking (on paths the guide book referred to as a "goat trail") and more walking on roads, both paved and unpaved, we started walking for longer distances. The longest so far was about 22 miles from a town called Santhia' to our hotel in Vercelli – the heart of rice production in Italy. We walked across fields the whole day so had to carry food and more importantly water for the day.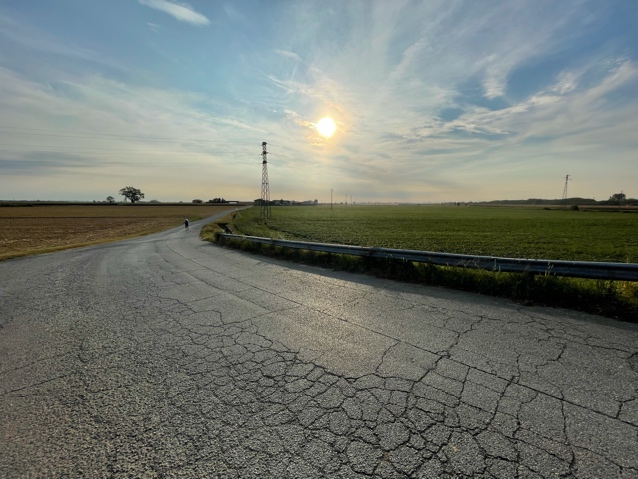 We walked all day in 80+ degrees and full sun – the only shade we found the whole day was under a railway bridge, where we ate lunch. There was evidence that someone had been sleeping under the bridge – it was hard to tell how recently. But we were thrilled to borrow what we assume were their seats to sit on for our lunch – two pieces of wood. We were grateful for both the shade and the seats.
After staggering across the entire city of Vercelli, we got to our hotel around 7 pm. After quick showers, we went downstairs to dinner in the hotel restaurant, officially closed for vacations but serving a fixed menu for hotel guests. We had Risotto alla Parmigiana and Squid cooked in a spicy tomato sauce – and it was one of the best meals we'd ever had. As we were leaving the dining room, we noticed a display case – full of red plates from Michelin – one for every year since 2010 or 2011, each with 1 star. We went from eating ham and cheese sandwiches on dry white bread under a railway bridge for lunch, to dining in a Michelin-starred restaurant for dinner.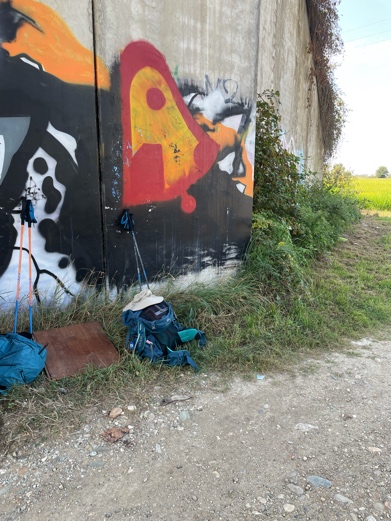 The next day we were both too exhausted to walk – it was meant to be Tacy's last day of walking and instead of walking and then taking the train to Milan (and the airport), Tacy went straight to the airport, and I took the train to my next destination. It was odd to be alone. I wasn't lonely, and started having fascinating conversations with people I met along the way. One couple who was interested in starting a B&B in a small town bought me a blueberry juice in a café; at another café where I stopped for lunch I had a very long and philosophical conversation about US vs Italian politics, vaccine acceptance and soccer (the latter definitely not my strong suit!). And while rice fields have their own special beauty, they did become extremely monotonous after the 2nd or 3rd day.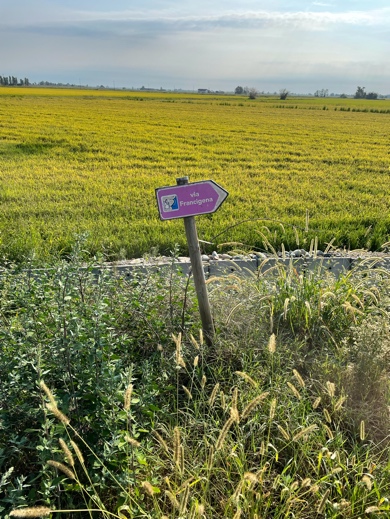 I walked for 3 or 4 more days through fields and across farms, alongside canals and railway tracks, becoming increasingly worried about my blisters. They had started right at the beginning, and I kept bandaging and covering them with Compeed. The two blisters on my left foot were more-or-less manageable and didn't hurt much. They were on the inside of my foot, one near my toe and then other near my heel, and when covered with Compeed they only hurt a bit. The pressure was building, though, and I realized when they swelled up over ½ inch that I needed to get some of the fluid out, which I did with a sterilized needle. After that, they seemed MUCH better.
The blisters on my right foot, though, were becoming more and more painful. They both ended up bursting on the same day, on the 6th, a few days after Tacy left. In each town I went to after she left, I tried to find a doctor. The owners of the B&Bs I was staying in sent me to ERs, but they were all closed when I tried to go. In Pavia, I tried to find a podiatrist who could see me, with no luck. So I grabbed my first aid kit and started slathering on antibiotic ointment. I thought that because they had burst, and because I was covering them in antibiotic cream, they'd be fine, so I kept walking. And walking, and walking. The last day, the 8th, I actually found myself whimpering from the pain as I walked, and I realized I really HAD to stop. And I had to find a doctor.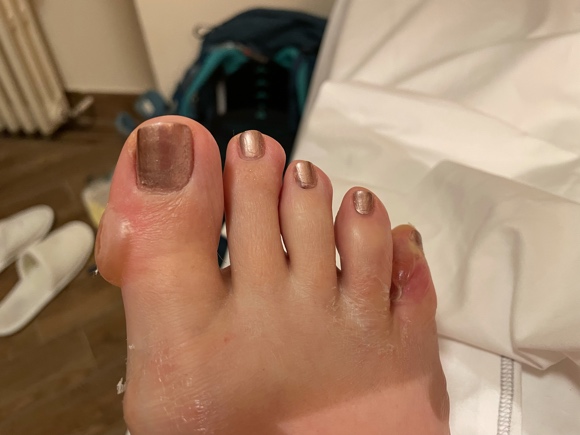 Since I had arranged for my suitcase to be being carried from place to place (often by the owners of the places I was staying), I knew I could hitch a ride and not walk. On the 9th I stayed at the Agriturismo Battibue in Fiorenzuola d'Arda. The owner, GianPiero (John Peter), picked me up from my hotel in Piacenza in his farm truck. "Sorry for the mess," he said, sweeping assorted papers and small farm things onto the floor from the passenger seat." "I hear you are having problems with your feet." I told him the sad story of my blisters. "You need to see a doctor! I'll take you to the ER in the hospital in town – it's new, it'll be great."
After we pulled up, we showed our vaccine passports (or CDC card in my case) and had our temperatures taken, then went into the hospital. "What do you mean the ER is closed? We have to go WHERE now?" Apparently, COVID has caused a number of problems in the state of Lombardy (where I was) and many ERs were closed as a result, and now the nearest one was at least 30 or 45 minutes away. GianPiero pulled out his cell phone and called his personal doctor, who agreed to see me on the spot. 15 minutes later, after promising the doctor that I wouldn't start back on the Via or walk in closed shoes for a week, GianPiero took me to a pharmacy where I got an oral antibiotic, medicated foot wash, prescription antibiotic cream, and medicated bandages.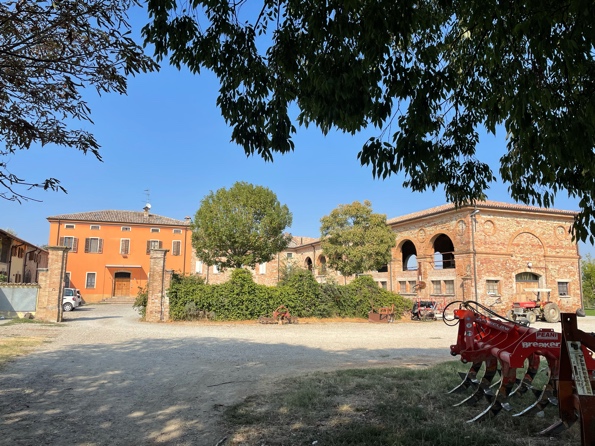 Agriturismo Battibue – where I spent my first 'grounded' day. Agriturismi are working farms that have restaurants and rooms – everyone I've ever stayed at or eaten at has been excellent, and I was so impressed with the care I got while staying here. The food was amazing too! My room was in the orange building. Moral of the story – when it hurts, STOP. Just… stop.
Part III – grounded
Piacenza – Fiorenzuola d'Arda
Fiorenzuola d'Arda – Fidenza
Fidenza – St Andrea Bagni
St Andrea Bagni – Fornovo di Taro
Fornovo di Taro – Berceto
Berceto – Previde
Previde – Pontremoli
Pontremoli – Fileto
Since I'd already paid for all of my lodgings, and I knew I could travel with my suitcase, I decided to keep moving from place to place. Fortunately, the sandals I'd thrown in my suitcase at the last minute had adjustable straps and I could walk very comfortably in them, despite the blisters, so I figured I'd be able to at least explore the places I was staying. As it turns out, I missed 3 or 4 relatively boring days of walking across fields and through exurban industrial zones, but from Fornovo di Taro onwards I missed some of the most beautiful scenery (and most difficult hiking) of the trip – over the Cisa pass from Lombardy to Liguria. I'll have to come back to do the bits I missed!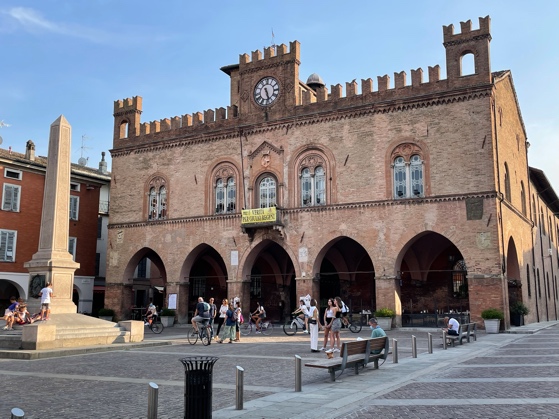 I was able to explore the places I was staying, and on my last two rest days, I actually put on my sneakers (and then my boots) and I did a little walking on the pilgrimage trail (just to be sure I could actually do a full day's walk when I started again on the 17th).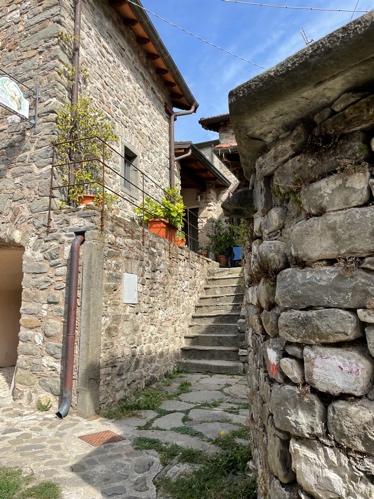 This is the outside of one of the B&Bs I stayed in – called Eremo Gioioso – or Joyful Hermitage. It was originally built around the year 1,000 as the prison for a castle (no longer there) that guarded the lower flank of the Cisa pass. The owners, Macro and Marzia, were incredibly gracious hosts, and made the most amazing dinner and breakfast – homemade Testaroli (a local pasta) with olive oil pressed from their own olives; eggs from their own hens, and yogurt and ricotta cheese that they'd made themselves. Moral of this part of my journey – learn to love going with the flow. There are amazing people and places to discover once you let go of your vision of how things are 'supposed' to be.
Part IV
Fileto – Aulla (long and hard), but with beautiful scenery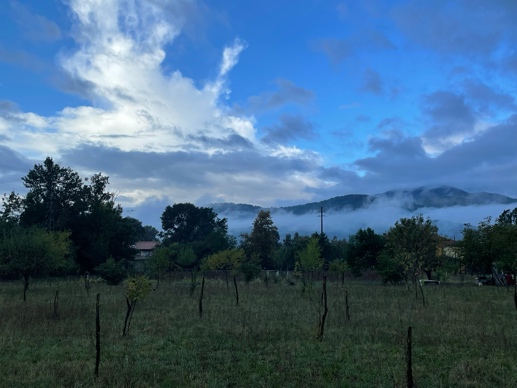 Aulla – Sarzana which was brutal – washed out goat tracks, slippery surfaces, mudslides, and the 'road' below which was apparently built in 1200. It was ghastly to walk on – slippery and unstable. The last 4 miles of the day were in the flats, thankfully on pavement, but in driving rain.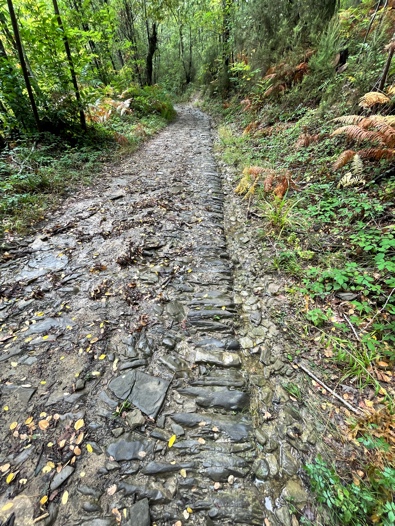 Sarzana – Massa – I wised up and took a page from my friend Tacy. I made sure I stopped and smelled the roses along the way. I also hitched a ride for first 10 K to the Luni archaeological site, which I walked through excavations of the Roman city and amphitheater that were built around 100 BC and then walked to Massa along the Via Dei Vini. The day was full of amazing scenery, with my first glimpse of the sea, and marble EVERYWHERE (even chips used as fill on dirt/gravel roads).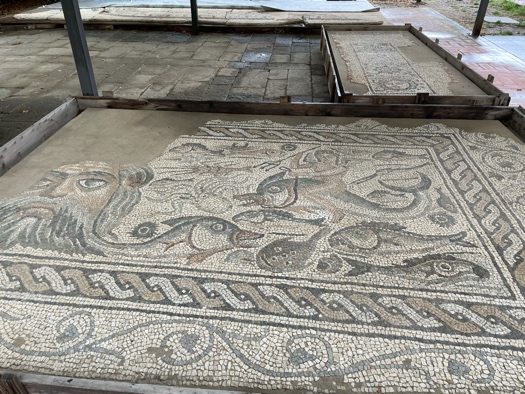 Massa – Camaiore – mostly on pavement which is hard on the joints but lovely for my now-healed blisters. Another gorgeous day of small towns with stunning 12th, 13th and 14th century buildings and wonderful food.
I wrote this sitting outside a café in Massa – with an Americano cocktail and a small plate of snacks – it's pretty typical in Italy to be served some snacks alongside a drink. I was eventually chased off by a rowdy gang of preschoolers on scooters who were making one heck of a racket – lots of complaints to their parents about having to stop riding and go into dinner – it's a school night after all.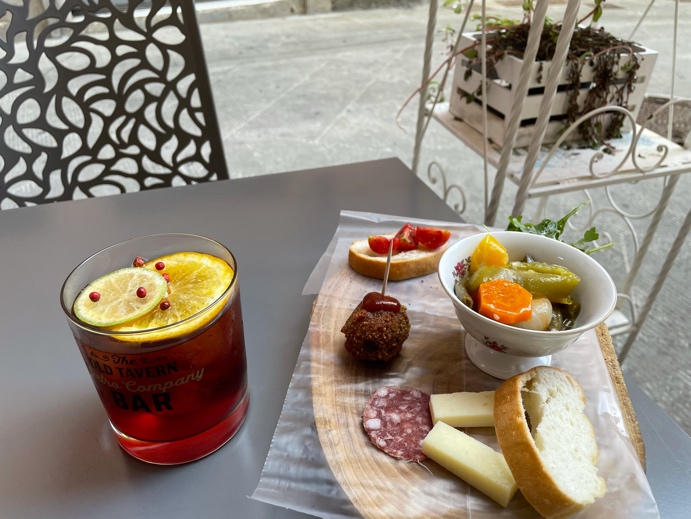 Moral for part 4 – it's great to be back on the road; I don't want to take anything for granted at this point. Especially the weather – walking in the rain is no fun, though it is good to know that my boots, rain jacket, and backpack cover really ARE waterproof, just as advertised.